Congratulate the new parents and welcome he new baby girl on baby shower party with a special Baby Girl Gift Hampers. The hampers are beautifully created and crafted for special occasions like baby shower party. They include a wide range of baby gift items and baby products from bath essentials to beddings to toys to clothes to diapers and more. When you choose a baby hamper delivery for your baby shower gift, you may want to consider these best-selling hampers of gifts for the little baby girl: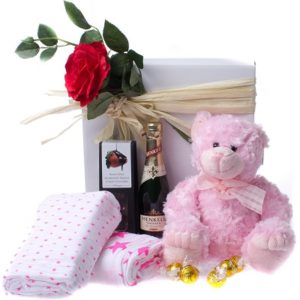 A newborn baby hamper of pampering items for the little baby girl will surely amaze the new parents. The hamper is full of baby items for soft pampering. From branded baby soap to baby shampoo, baby powder, baby wipes, baby cologne, and baby washcloths, the main goal is to give the little girl the best pamper she deserves.
A newborn hamper of pretty baby clothes, baby booties, baby mittens, baby socks, baby bonnets, and more in pink color is such a sweet gift. For something extra wonderful and lovely, why not add flowers and balloons to this hamper. The best flower delivery company has all the items you need for baby shower gifts of sweet hamper for the little girl.
Precious Baby Girl Hamper
For the precious little baby girl, newborn baby gifts include different sets of baby girl items like clothes, socks, hats, and toys and a glass photo frame in cute design for storing and keeping precious photographs of the little baby girl. Look around at the florist Singapore for these items and create your own customized precious Baby Girl Gift Hampers.
Luxurious Comfort Baby Girl Hamper
Give the gift of luxurious comfort to the little baby girl with this hamper. It includes fluffy and soft pink blankets, bodysuit, mittens, booties, hats, and plush toys. The luxury hamper also includes some delightful gifts for the new parents. A box of chocolates for the new mom and a bottle of champagne for the new dad come in every luxury hamper.
Baby shower is a special occasion worth the celebration and the pampering and sweet gifts not only for the little girl but also for the parents. The Baby Girl Gift Hampers Singapore that you choose to send will surely bring them joy and delight as they welcome the new little girl and as they celebrate the special occasion.