thebloomoutlet.com | Sympathy or condolence flowers have a special type of meaning, and they can be used to express your sympathy and pay your respect towards the bereaved. This is a very important time to show some cares and even just by giving flowers. Such gestures will be remembered and treasured since this is a kind of time when supports and care are really needed by the bereaved or the people who just experienced a loss.
Show Your Sympathy with Condolence Flower Singapore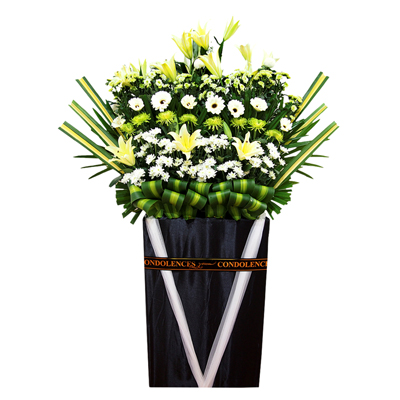 What Kind of Flowers to Give?
There is no particular flower that designated or considered as a condolence flower; any flower is might be just fine to give or send. You can instead choose the flowers based on the meaning of the flowers itself or some special considerations for the deceased and the bereaved. However, flowers like Lilies, Gladioli, Roses, Chrysanthemums, and Carnations are the popular kind of condolence flower. Then there are types of flowers like a wreath, casket sprays, sprays, or simply flowers inside the casket piece that are popular for condolence flowers.
When Should You Give the Flowers?
You can buy and bring the flowers when you attend the funeral, or you can send the flowers later to the home of the bereaved. This depends on your intention. If you want to express your sympathy, love for the deceased and the family of the deceased, send the flowers before the funeral. If you want to send flowers to show your care and support for the bereaved, then send it after the funeral to their home.
After all, the first thing you need to consider before choosing the condolence flower is about who is deceased or the bereaved to you and what thought you'd want to deliver through the flower. You can then simply ask the florist where you buy the flowers about the most suitable flowers to choose, and they will only give you the best suggestion.
Show your sympathy with flowers. Losing a loved one is certainly one of the most difficult times in life, sending a flower delivery of condolence flowers then be a little help for the bereaved as it will support them mentally.