thebloomoutlet.com | Chinese New Year or Lunar New Year is also known as the Spring Festival; it is because this new year starts at the beginning of the spring season. No wonder why this occasion can carry such a joy and happy vibes to everyone who celebrates it. However, Chinese New Year is one of the most important celebrations among the Chinese people. That's why they need to be well-prepared and celebrate the new year joyfully. Florist Recommend: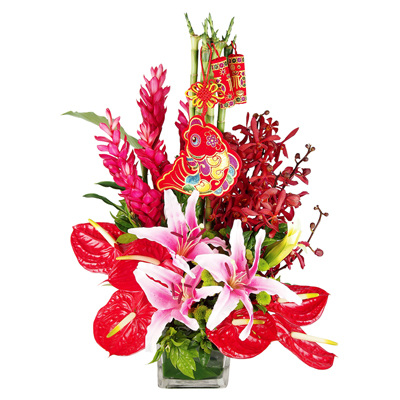 There are many ways to celebrate Chinese New Year, but exchanging gifts are absolutely the most important part of the celebration. Not only to make the celebration more exciting but exchanging gifts also can strengthen the adored relations and bonds between people, especially with the loved ones. And one of the very best gifts you can give on Chinese New Year is flowers. What can be the more beautiful way to welcome and greet someone a happy new year than flowers? Flowers are the perfect way to build a happy mood, create a smile, and symbolize a fresh start on the new year.
Chinese New Year Flower – Buy Flowers to Celebrate Your Chinese New Year
New year is always about new beginnings, fresh time, and a time to welcome the future ahead. And flowers surprisingly have that 'power' to express the feelings through a single gift.
Below are the list of appropriate Chinese New Year flowers you can buy:
Peony
The pale pink flower is a symbol remembrance. It's can be your way to tell the receiver of your Chinese New Year flower gift if you will always remember them no matter how far and how long you know them.
Azalea
This flower is a symbol of prosperity. You can use this flower to wish a good future for your receiver on this new year. However, Azalea has a red color that really appropriate for this special occasion.
Lily
Lily is like a showcase of elegance. This pretty flower is perfect to celebrate the new year as is can brightening up the brand new day in such a beautiful way. They can also be a delightful home decoration to start your year.
Carnation
This is one of the most cheerful flowers that will never fail to bring the joy and positive energy around. They are also can be the personification of "beauty," and you can use them as a symbol of your beautiful wish upon the new year.
Orchid
Orchid is classy and elegant; this flower will definitely turn your new year into a delightful one. With its exotic and colorful petals, orchids become the sign of happiness in any type of celebration. They are just perfect to be your Chinese New Year flower gift to your special ones.
Chrysanthemum
Chrysanthemums are the perfect symbol of ultimate happiness. This flower has an ability to make its surroundings happy and full of joy in a good way. This flower has a natural beauty and a kind of kind message to carry all along.
After all, you will never go wrong in giving flowers as your Chinese New Year gift. The flowers are just perfect because they represent good lucks and any good and kind thoughts to the receiver.