thebloomoutlet.com | A fruit basket is a gift you can give to anyone and any kind of occasion. It is true that you will never go wrong with fruit basket gift! Almost everyone loves fruits, and we know that fruits are one thing that can make people healthy and fruits are also delicious. Fruits provide the vitamins, nutrition, and mineral that people needs. More importantly, when you send or give a basket of fruits to someone, they can express your appreciation and show that you care. However, the best fruit hamper or fruit basket is the one nicely made like fruit basket Singapore. Nowadays, you can get a fruit basket by order it flower delivery online, but if you want to try to make one by yourself, here are some things you can follow:
Fruit Basket Singapore – A Proper Way to Make Fruit Basket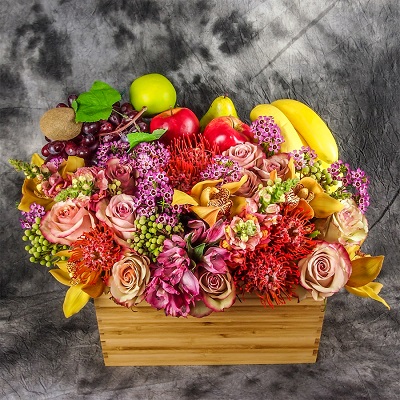 Buy the best and freshest fruit you can find
You can go to the local farmer's market or supermarket or a local grocery store nearby your place to get the fruits. But before that, you must be sure that they have the best produce of fruits. When you are sure about the quality, select the fruits carefully and pick only the biggest one without some bruises or blemishes. Then buy lots of fruits—you can save the fruits for yourself if it is too many. Buy lots of varieties too such as Apples, Pears, Oranges, Grapes, Mango, or even Kiwi; the most liked and favorite fruits. This way, you don't need to worry whether your recipient won't like the fruit basket gift, they will absolutely like them!
Choose the right basket
About the basket, choose the one that you think will be fit for the fruits you choose to buy, especially the size of the basket. After you are sure that the size of the basket is enough, you can then think about the style. A simple and cheap basket might be enough, but you need to make sure if the quality is not "cheap" since it is the one that will be left on the hand of your recipient after the fruits are eaten.
Put other items in the basket
You can put other items in the fruit basket as an addition and make the fruit basket look more special if you want. Flavored mixed nuts, yogurt, honey, even cheeses, and chocolates will be a good addition to the fruit hamper. It's best if you know the recipient's favorite too, add them to the fruit basket, and you will make one of the best gifts they ever receive in their life.
Arrange and wrap it nicely
A good fruit basket is always wrapped nicely, so you have to do that for your own fruit basket gift too. Buy the materials in the shop and start wrapping! Don't forget to add your card greeting if you want a more special effect of the fruit basket to the recipient.
If you follow all the steps above, you surely can make a good gift that can make your recipient smile.