Flowers can always be creatively combined or arranged to create a beautiful flower bouquet or flower arrangements in all forms. The online florist Singapore is one example as the best source of beautiful the flower arrangement. Singapore florist will always have ideas to make impressive flower arrangements, they are not always bunched together in one type. The  flower bouquet can be combined with two or more flower types in a single color tone or multiple colors, too.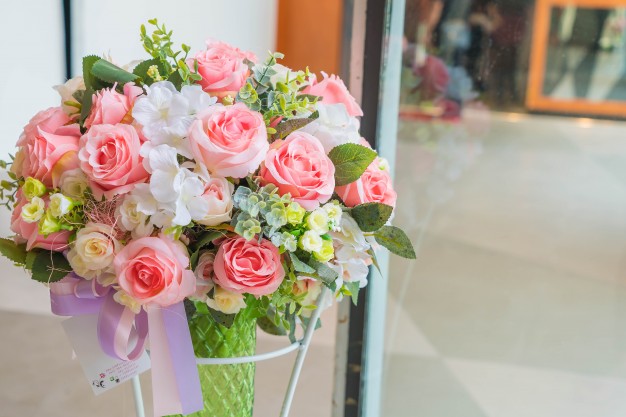 Creative Choices of Online Florist Singapore
Below are the examples of creative arrangements you can choose in an online florist Singapore:
Pink Bouquet
The combination of pink flowers such as the pink Carnations, pink Roses, and pink Peonies can be a very pretty flower arrangement. The online florist Singapore often create the pretty in pink bouquet since many people would love and have it because it is just really pretty. Singapore flower also rich in different pink color tones from the light pink until the dark hues.
Bouquet of orange
Other than pink, orange flowers are also plenty in the varieties. There are Alstroemeria, Begonia, Carnations, Canna, Cosmos, Gerbera Daisies, Lilium, Ranunculus, and Tulipa. The different orange shades of those beautiful flowers are perfect to make an impressive flower arrangement with violets and greens.
The shades of White
Now let us pay attention to the beautiful shades of white. Yes, white has shades too, and the combination of them can actually be a beautiful flower arrangement to see. You can ask the online florist Singapore to combine flowers in different shades of white such as Hydrangeas, Roses, Lilies, or Snapdragons flowers for a lovely bouquet.
The wildflowers
Other than those type of popular flowers, wildflowers also can be pretty amazing too when being arranged. They are fresher, attractive, pretty, charming, lovely, and unique. Perfect for a wedding or other kinds of special arrangement and home decorations as well. Don't hesitate to ask the Flower Delivery Singapore to make your flower arrangement that contains of wildflowers such as the Glory of the Snow. Fennel, Fountain Grass, Gromphena, Goats Beard, and many more kinds of wildflowers that available there. People might not already familiar with those names, and that can be one of the reasons that make them unique too.