thebloomoutlet.com | We are in the end month of 2017 already, December. The new year is fast approaching now, what have you prepare for it? December is probably both the happiest and busiest month of the year. Besides preparing for Christmas, you also have to prepare for your New Year!
One of the important things to prepare is the gifts; not only Christmas gifts but also New Year gifts. It is not an obligation, but it is absolutely what will make the special times become more special and will make you a lot happier since you make your loved ones happy by receiving the gifts from you, especially the lobe of your life.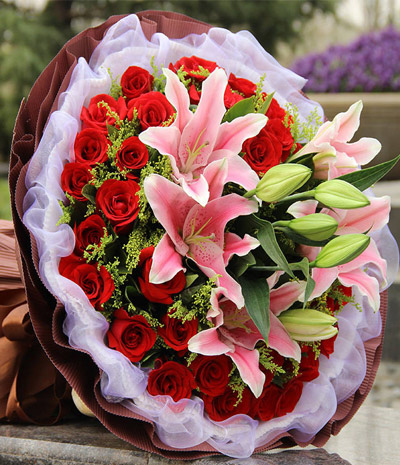 How to Surprise Her with Flower Delivery on New Year
As the new year begins, the woman in your life is definitely someone you do not want to forget. You would want to make the new year special for the both of you, and you would want to make her happy. All that it takes to make her happy is to carefully think about an impression gift, or whatever action that you think will impress her. Finally, you will be surprised by the huge impact of a small thing that you do on such special time. And below are a few guides for you to make such an impression:
Select the gift carefully
Relate the gift to something that your woman loves or combine the sweet little gifts to create a gift that you think is enough for the celebrations. Buy her favorite chocolate, favorite book, CD of her favorite musician, and even her favorite flowers! Flowers are perfect for any occasions, and it includes Ney Year. A bouquet of flowers New Year delivery is definitely one of the perfect choices you could make to make her happier to welcome the New Year.
Personalize the gift
However, no matter what are the gifts you choose for your woman in the New Year eve, make sure that the gift is fit or match with her taste. To do this, you have to personalize the gift; whether it is a fruit basket or any gift basket. If you choose flowers as your special gift in this special time, try to personalize the flowers to meet her personality. Her favorite flowers, favorite colors, or even the meaning of the flowers that suit with your thoughts about her are what can be your considerations in choosing the best florist delivery. However, the personalized gift also includes the greeting card. Don't forget to add the greeting card and write whatever you want to tell her at this special time. Do that, and you both will start the new year in a happier and closer relationship.
Have the gifts delivered
A surprise of flowers New Year delivery is really a great surprise you could try for your woman. You will excite her, even more, when the flowers are delivered by a delivery man or a messenger and know that it is from you. This is the simplest way to make her can feel your presence even in your absence if you are not able to meet her at the time. So by the time when you two meet up, she will beam you with excitement and happiness.