thebloomoutlet.com | In a student's life, graduation's day is important, no matter it's for kindergarten, high school, or college. As you've been a student too, you would understand that feeling, and you would want to send or present your congratulation to the happy graduates, tell them about how happy you are for their achievement.
One of the best ways to appreciate the achievement of graduates is by giving them graduation flower Singapore! Choose the best graduation flowers, and you will make the day become more special in the heart of the graduates—feel like they are appreciated for the hard work they have done.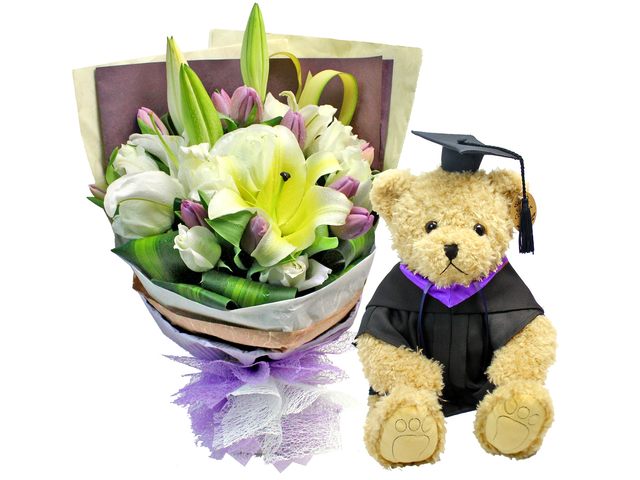 Even though the actual ceremony of graduation is usually limited and only available to some family members (to come inside), you still can attend the graduation ceremony and wait outside. Imagine the face of the happy graduate when later they see you come with a bouquet of beautiful flowers in your hand! There is nothing but happiness. Alternatively, if you cannot attend the graduation, you could also send  a graduation flower delivery Singapore to their house, and they will be as happy as what you imagine. You will absolutely make an impression, especially if you choose and buy the flowers in the best arrangement.
Special Graduation Flowers for the Happy Graduates
It is important for you to keep in mind that you should not pick the flowers randomly, you need to pay some considerations to get the best flowers since this should be a special gift from you. Pay some considerations like the color of the flowers, the type and the size of arrangement or even the kind of the flowers itself. It's good if you choose the color of the flowers based on their favorite color, but you can also make them even more impressed if you choose the flowers based on the meaning of the flowers.
It is not a secret that each flower has a meaning. Example: red rose means love, white rose means purity. You can browse the internet to explore the meaning of the flowers and choose what best represents your thought to the recipient, or you can simply ask some suggestion from the florist. A good florist will know what is the best flowers and the arrangement; they will never make you have a wrong choice. However, if you know the recipient has a favorite flower, you can choose it instead. Nothing will make the happy graduates happier than a thoughtful gift from someone they care about, and it could be you.
A customized graduation flower is also now available online, and you can simply order and buy your special gift here.