thebloomoutlet.com | A car decoration might not be the focus of your wedding plan, but still, this is what can make your wedding complete. A nice wedding car decoration will make an unforgettable impression on the guests of your wedding. Make a kind of good statement when you and your partner arrive and leave the wedding by looking good in a car decoration will make such an impressive wedding in the eyes of everyone who is being there.
Wedding Car Singapore – How to Choose a Wedding Car Decoration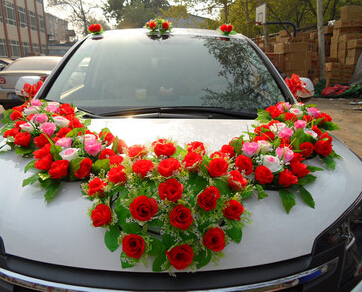 There are several ways to decorate a car, you can do it by yourself (of course before the wedding day) or use some service from others to get it done. Preparing a wedding might be a lot of work, you and your partner might just don't have enough time to prepare it all alone. Hence, you need help; use some wedding organizer or a florist service to decorate the wedding might be really helpful, including in decorating your wedding car.
What is the theme of your wedding? It is important for you to suit the decoration with the theme of your wedding. But there will always be flowers in a wedding, no matter what is the theme, don't you think so?
Flowers are just perfect for any occasion, moreover for an occasion like a wedding. Decorate your wedding with flowers are just perfect when you do it with an experienced florist. Let them do their job, that's what they know best. It's better if you let the experienced florist do their job for your wedding car decoration, too.
You don't need to pay in a huge amount of money for this. There are some florists like us who can provide you a wedding car decoration service at an affordable cost, yet in the best quality of the result. Choose the theme of your wedding or simply tell us about your desire for the decoration and we will do our best to satisfy you. You can even choose the kind of flowers to use. For example, if you and your partner have a favorite flower and want to use that flower as the theme for your wedding car decoration.
There are some ideas for the decoration you can choose too, such as an elegant and classy look, peacock theme, or even the minimalistic one. All is your choice, and you can choose the best one here, the Flower delivery Singapore.