thebloomoutlet.com | Baby Hamper Singapore. You can never go wrong with baby gift baskets for the newborn. A baby shower gift is a great gift to give since they are colorful and look creative. Besides easy to personalize, you can also add 'a special touch'.
Here is how you make Baby Hampers Gift:

Choosing a color scheme
We know traditional themes like "pinks for girls and blues for boys" are still common, people used to divide pink and blue like they divide girls and boys: pink is for girls and blue is for boys. It is actually not necessary to feel or follow that constricted standards which are based on genders. Though, you need to be sensitive to what the parents might think and want for their baby.
"Pink for girl and blue for boy" scheme is a go for traditional parents who have a traditional mindset. But, if they are an open-minded parent, you can be more flexible in choosing the colors.
Choosing a unique basket theme
You should then choose a cute and friendly theme for the baby gift basket. There are some common themes like animals and plants, polka dots and stripes, etc. But you also can be more creative by creating your own theme. Example: if the mommy loves banana, or love minion, you can create the theme based on it. Fun and unique are the main point here.
Example: If a mommy loves banana, or love minion, you can create the theme based on it. Fun and unique are the main point here.
Pick a basket
Usually, you can find fabric, woven, plush and wood basket in the craft stores, whether it is a traditional store or a non-traditional store.
Pick a basket there that you think is suited for the gift and the theme you would want to create. Just make sure if the basket does not contain toxic because it can be dangerous for the baby.
Gather your supplies
After picking a basket, now you can select the gift to fill in the basket. Don't forget to pick up thick ribbon, bows, foam or wood letters, card, plastic wrap and any other decoration stuff for the basket. Once again, make sure nothing is toxic and nothing is harmful to the baby.
Filling the Basket
Don't only fill the basket with the needs of the baby, you can also include the items that might be needed by the mommy such as cloth pads or bread pads. Don't forget also to include something cute and lovely to melt mom's heart, something that is personal almost always includes in the best gift baskets. The more it touches the heart, the more special it is.
Decorating the Basket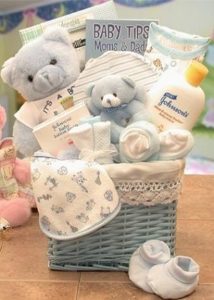 For the last touch, let's decorate the basket! You can apply something that will make the basket look sweeter like a ribbon. You can wrap the basket handle with a thick ribbon, you can also apply bows to its handle or the basket front. Make sure that you look for every detail in the basket to make it look perfect. Moreover, be careful also with the cards; make sure that you put it on top and the card can be easily seen in the first look.
When you are finished, wrap the entire basket in plastic—clear or the colored one. A cellophane sheet or plastic wrapping bag can be options for you to wrap it. Don't forget, too, to secure it with ribbon and tape.
If you are looking for Baby Gift for a Newborn baby but you don't have time to make it by yourself, Baby Hamper Singapore can beautifully make it and package it for you. A unique baby present is necessary, it just such a lovely way to show your love the new baby born and his or her mommy. Make them feel special and loved by giving them a proper gift by Baby Gifts Singapore.
Some generic gifts like a few toys, a warm blanket, some warm clothes are eventually needed but it is not really unique. You would want to give them (the baby and the mommy) a special one in that very special occasion.
Here, you can try to give a baby gift basket, filled with all that might be needed and special for the baby. So, why don't you try some? A beautiful and unique gift for them is just perfect.